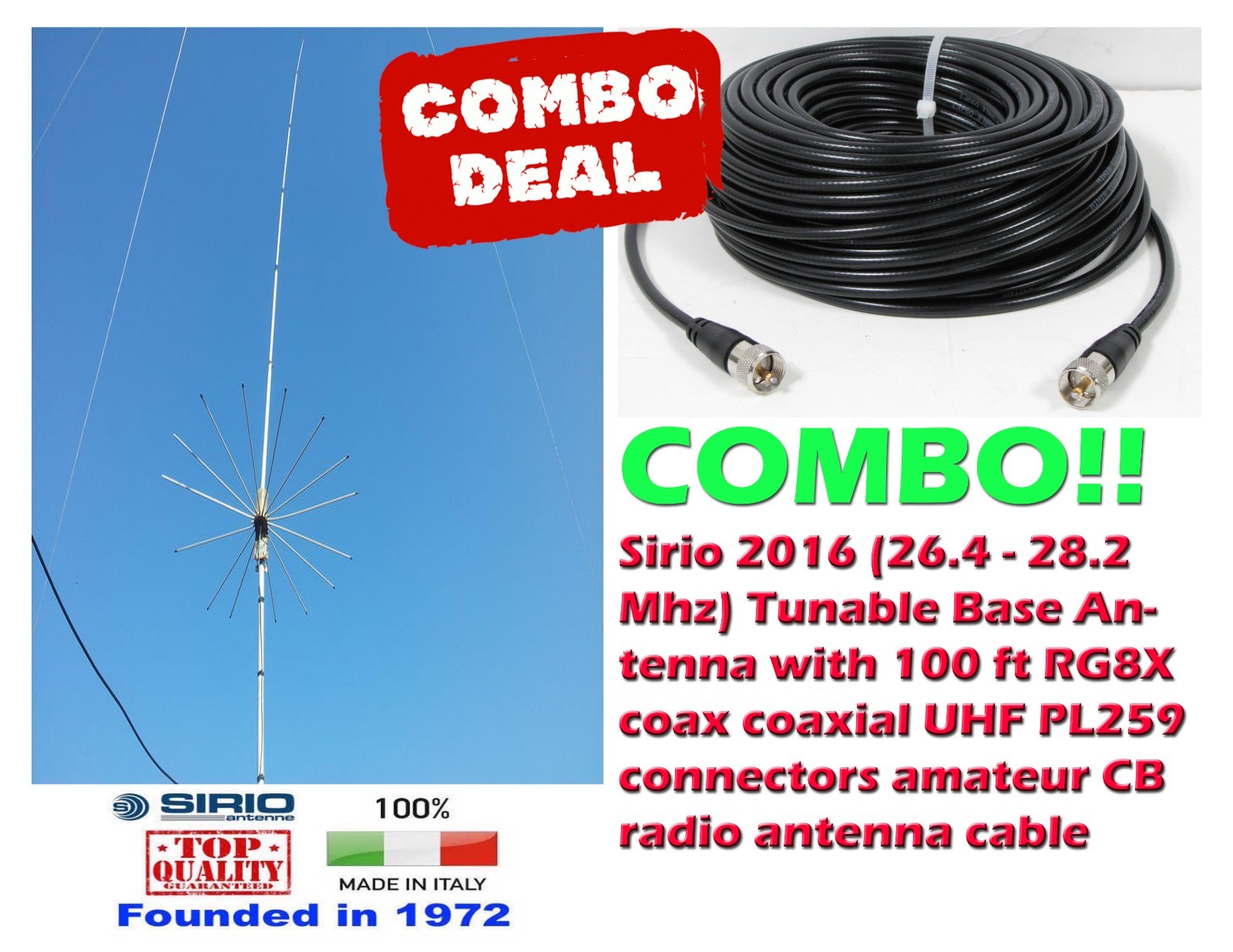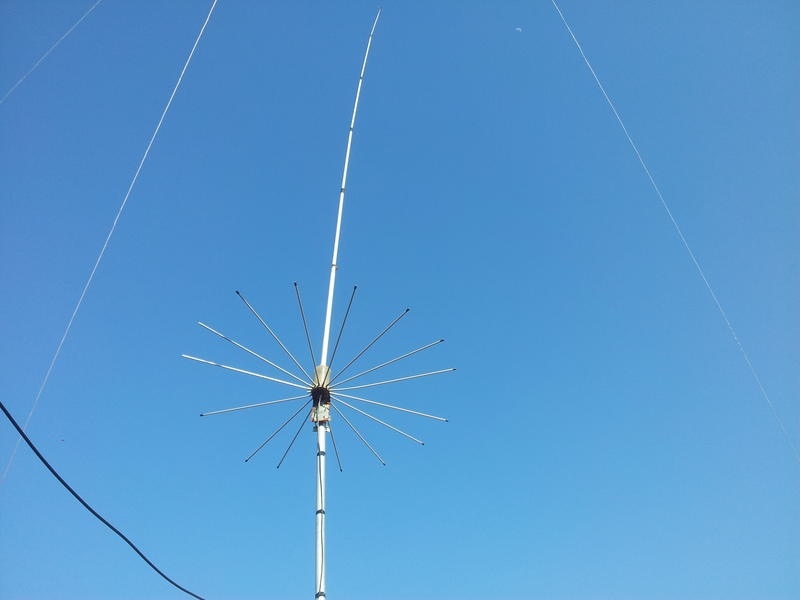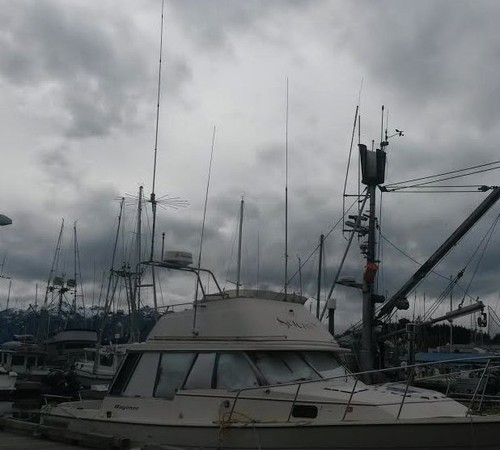 Here is a feedback on Sirio 2016 from a fishing vessel in Alaska:
Sirio 2016 best antenna we ever had on our fishing vessel tunes great very low noise ,very thick alum tubing its Alaskan Tuff telling my friends up here hard find a good antenna around this area we talked to Juneau Ak all night with antenna we could never do that before,
thank u from the crew of Serenity as We can now talk to love ones now in Juneau AK from Sitka Alaska
Another update from customer in Houston Texas after the terrible Hurricane Harvey :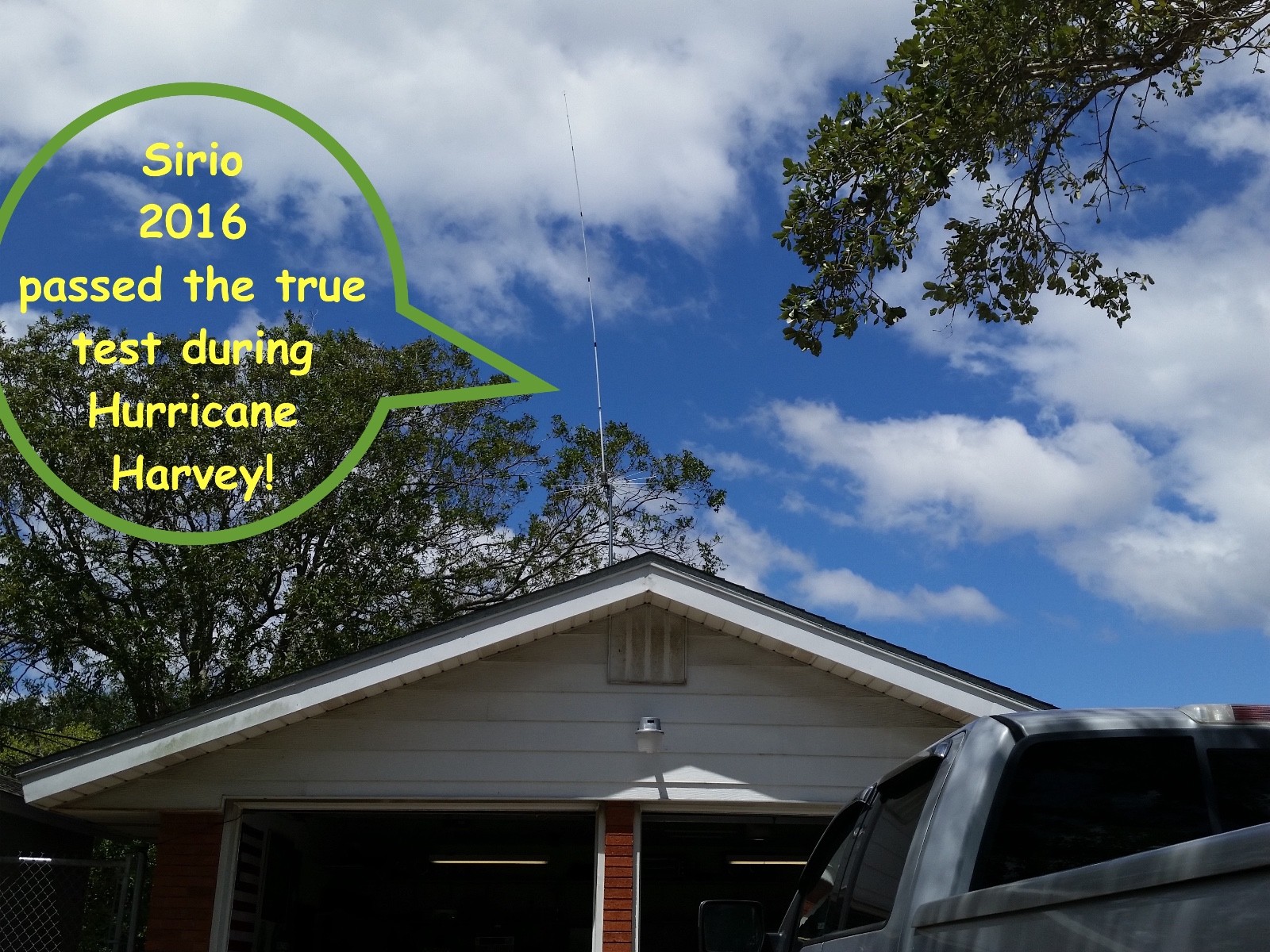 The eye wall of hurricane Harvey passed within 20 miles of our home and my sirio 2016 antenna
My weather station recording wind speed did not fair as well so i cant give you a true and accurate wind s
peed test but we watched on TV like every one else and they were talking wind speeds above 80 mph.
It is mounted on a 20 pole and as you can see still standing and talking.
I took the photo today 8-29-17 after returning home from leaving town for the storm.
My pole may need a little tweaking, and the pole mount might be bent just a tad but still intact and the vertical undamaged it appears.
I know it is not the best picture but it shows the antenna still up.
We might get some thunder storms in the future but i doubt we ever see those wind speeds again.
Very Satisfied Customer!
Wow, A Customer even put Sirio 2016 on his Car :)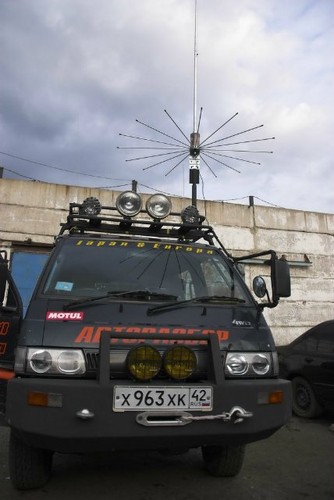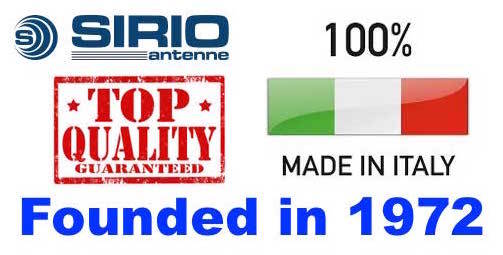 1) Sirio 2016 (26.4 - 28.2 Mhz) 5/8 Tunable 10m & CB Base Antenna - 3000 Watts
This is a high quality base station antenna tunable from 26.4 to 28.2 Mhz. Come with high power impedance transformer. Water proof, strong and easy to install, they allow very good links!
Features:
Base station antenna, Omnidirectional
High power handling capability
Low radiation angle for excellent DX
Coil protected by transparent cover
Whip equipped whit waterproof jointing sleeve
Equipped whit excellent multi element ground plane
Protection from static discharges DC-Ground
Made of aluminium alloy 6063 T-832

Electrical Data
Type: 5/8λ ground plane
Frequency range: tunable from 26.4 to 28.2 MHz
Impedance: 50Ω
Radiation (H-plane): 360° omnidirectional
Polarization: linear vertical
Gain: 1.3 dBd, 3.45 dBi
Bandwidth at SWR ≤ 2: SIRIO 2016 : ≥ 2100 KHz
SWR at res. freq.: ≤ 1.1
Max. power: 1000 Watts (CW) continuous 3000 Watts (CW) short time
Feed system / position: Transformer DC-ground / base
Connector: UHF-female

Mechanical Data
Materials: Aluminium, Copper, Nylon
Wind load / resistance: 166 N at 150 Km/h / 130 Km/h
Wind surface: 0.14 m²
Height (approx.): 6100 mm
Weight (approx.): 5300 gr
Radial length (approx.): SIRIO 2016: 700 mm
Mounting mast: Ø 40-50 mm
2) Taurus 100Ft RG8X Mini8 Coax Cable with PL 259 connectors - High Quality Cable!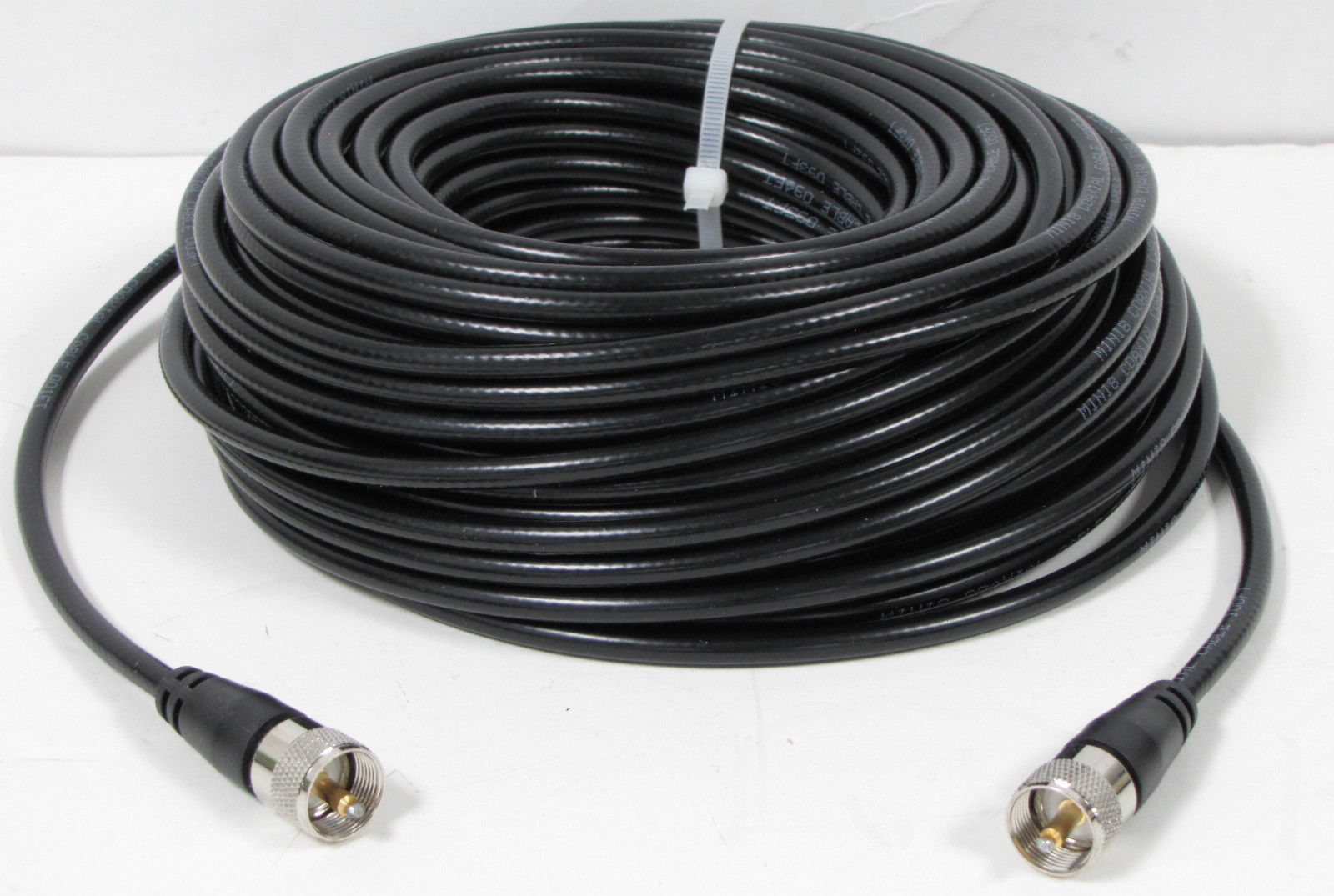 100 FT Length
50 ohm impedance
(2)

PL259 Male Connectors
Heavy Duty Super Flexible Gray Jacket
3000 Watt Power Handling
95% Copper Shield
SIRIO CB/10 Meter Base Antenna Compairsion Chart -- by DNJ Radio
Model
Frequency
Type
Gain
Max Power
Height
Radial Length
Thunder 27
25 - 29 Mhz
1/4 λ
2.15 dBi
100 Watts(continous), 300 Watts(PEP)
960mm / 3.14 ft
N/A
GPE 27 5/8
26.4 - 29 Mhz
5/8 λ
3.35 dBi
250 Watts(continous), 750 Watts(PEP)
5950mm / 19.5 ft
1320mm / 4.33 ft
GPS 27 1/2
26.4 - 29 Mhz
1/2 λ
2.15 dBi
250 Watts(continous), 750 Watts(PEP)
5950mm / 19.5 ft
N/A
Starduster M-400
26.5 - 30 MHz
1/4 λ
2.15 dBi
1000 Watts(continous), 3000 Watts(PEP)
5040mm / 16.5 ft
2690mm / 8.82 ft
New Tornado 27
27 - 30 Mhz
5/8 λ
3.35 dBi
1000 Watts(continous), 3000 Watts(PEP)
7230mm / 23.7 ft
2000mm / 6.56 ft
Sirio 827
26.4 - 28.4 Mhz
5/8 λ
3.65 dBi
1000 Watts(continous), 3000 Watts(PEP)
6700mm / 21.9 ft
1400mm / 4.59 ft
Sirio 2012
26.4 - 28.2 MHz
5/8 λ
3.34 dBi
1000 Watts(continous), 3000 Watts(PEP)
6100mm / 20.3 ft
1200 mm / 3.9 ft
Sirio 2016
26.4 - 28.2 MHz
5/8 λ
3.45 dBi
1000 Watts(continous), 3000 Watts(PEP)
6100mm / 20.3 ft
700mm / 2.39 ft
Vector 4000
27 - 28.5 MHz
3/4 λ
4.15 dBi
1000 Watts(continous), 3000 Watts(PEP)
8480mm / 27.8 ft
N/A
SD-Dipole 27
26.5 - 30 Mhz
Dipole
2.15 dBi
1000 Watts(continous), 3000 Watts(PEP)
5582 mm / 18.3 ft
3200 mm / 10.5 ft
SY-3 Yagi
26.5 - 30 Mhz
3 element Yagi
10.65 dBi
1000 Watts(continous), 3000 Watts(PEP)
Dimensions: 5942x2710x100 mm / 19.5 x 8.8 x 0.3 ft
SY-4 Yagi
26.5 - 30 Mhz
4 element Yagi
13.15 dBi
1000 Watts(continous), 3000 Watts(PEP)
Dimensions: 5846x4030x100 mm / 19.1 x 13.2 x 0.3 ft
Gain-Master
25.5 - 30 MHz
0.625 λ
1 to 2 dB higher
500 Watts(continous), 1000 Watts(PEP)
7360mm / 23.7 ft
N/A
Sirio 2016 (26.4 - 28.2 Mhz) 5/8 Tunable 10m & CB Base Antenna and 100Ft Coax
Brand: Sirio Antenna
Product Code: Sirio 2016
Availability: In Stock