1) Sirio SY 27-3 3 elements Yagi Beam CB/10Meter Antenna (new upgraded version)
The Sirio SY27-3 3 Element Yaga Beam CB/10M Radio Antenna is a high quality, lightweight but strong antenna, that is great value for money and comes complete with UHF female connector.
Sirio's 3 Element Yagi Beam CB/10M Radio Antenna is excellently constructed and is guaranteed to give a great performance on 26.9-27.5Mhz, as well as being easily adjusted to cover up to 29Mhz in the 10 metre Amateur Band. The 3 Element Yagi Beam Antenna works on 27Mhz band with Gamma Match System, which has been made of anticorodal aliminium, and is also supplied with steel brackets for the fitting of the support mast. The fixing part is made of die-cast metal to provide maximum strength, and each element is supplied with completely waterproof jointing sleeves made of polythene. The SY 27-3 is a 3 element YAGI beam antenna is comprised of a reflector, radiator, and director, and can be mounted either in the vertical or horizontal planes, making this antenna particularly suitable for long range communications (DX-ing).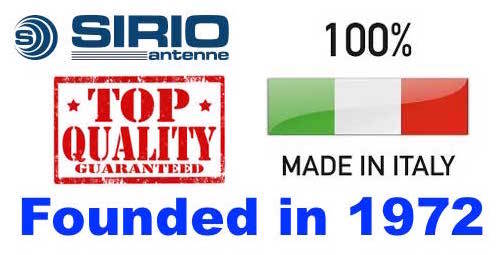 Features:
-

Base station antennas

-

Directional, High-gain

-

Horizontal polarization

-

High power handling capability

-

Elements equipped whit waterproof jointing sleeve

-

Made of aluminium alloy 6063 T-832

-

UP-GRADE: extended frequency now tunable from 26.5 to 30 MHz





Electrical Data

-

Type: 3 element Yagi antenna

-

Frequency range: tunable from 26.5 to 30 MHz

-

Impedance: 50Ω

-

Radiation (H-plane): directional

-

Polarization: linear horizontal

-

Gain: 8.5 dBd, 10.65 dBi

-

Bandwidth SWR ≤ 2: ≥ 1200 KHz 26.5 MHz

-

SWR res. freq.: ≤ 1.2

-

Max. power:




1000 Watts (CW) continuous




3000 Watts (CW) short time

-

Feed system / position: Gamma match / center

-

Connector: UHF-female

Mechanical Data

-

Materials: Aluminium, Zamak, Zinc plated steel

-

Wind load / resistance: 86 N 150 Km/h / 120 Km/h

-

Wind surface: 0.07 m²

-

Dimensions (approx.): 5942x2710x100 mm

-

Boom length / diameter: 2710 mm / 33 mm

-

Max. element length (approx.): 5942 mm 26.5 MHz

-

Turning radius (approx.): 3300 mm

-

Weight (approx.): 4700 gr

-

Mounting mast: Ø 35-50 mm



2) Taurus 100Ft RG8X Mini8 Coax Cable with PL 259 connectors - High Quality Cable!

100 FT Length

50 ohm impedance

(2)

PL259 Male Connectors

Heavy Duty Super Flexible Gray Jacket

3000 Watt Power Handling

95% Copper Shield
Sirio SY 27-3 3 elements Tunable 26.5-30mhz Yagi Antenna with 100 ft RG8X coax coaxial UHF PL259 connectors amateur CB radio antenna cable
Brand: Sirio Antenna
Product Code: Sirio SY 27-3
Availability: 2-3 Days